In the world of modern software, reliability and availability are crucial. At Pharius and RiskReporter, there's no doubt we understand this. We find it important to be transparent about our software towards our users, cooperation partners and others who would like to know more about our products. That's why we have developed the Pharius status page. There you always have reall-time insight into the performance of our services.
Instant information on system status
With our status page, you can see at a glance the current system status of Pharius, the Reporting functionality and RiskReporter, which is part of the Pharius Risk Manager module. On these pages you can immediately see whether our services are working up-to-date or if there are any incidents that might affect your work. At Lexerta, we strive for maximum transparency and are committed to addressing any issues quickly.

Real-time updates on incidents
In case of an incident, be it scheduled maintenance or unexpected downtime, you will see it immediately on our status page. You can also subscribe to updates here, so you will be informed of progress and/or status changes by e-mail. This way, you always have access to the most up-to-date information.
Openness and trust
Why this status page? We value commitment, openness and trust towards our users, cooperation partners and potential customers. We want you to feel confident when choosing our products and services and to be aware of their performance at any time. Therefore, in addition to a real-time overview, there is also access to historical data and Pharius' uptime.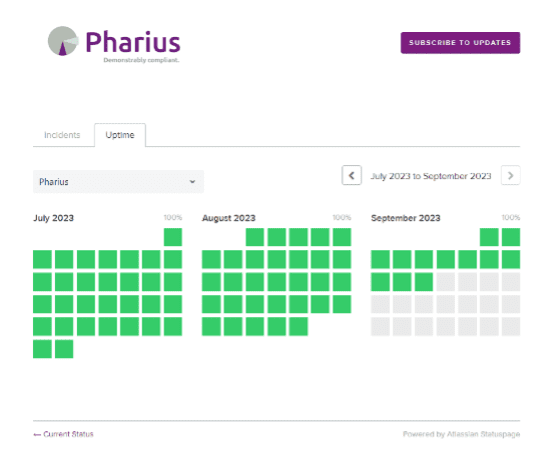 Easy Access for Everyone
Our status page is easily accessible from the footer on our website and can be accessed on any device with internet access. You don't have to follow any complicated steps to check the status; just one click.
Subscribe
Not familiar with our status page yet? We cordially invite you to explore this page (https://pharius.statuspage.io/#). Bookmark it in your favourites (Tip: next to the Pharius application). Of course, you can also subscribe via the subscribe button.